Funeral Flowers
We recognise the significance of flowers in celebrating, honouring and remembering the ones we love and we feel immensely privileged when families entrust us with the floral arrangements for a funeral.
Our funeral flowers are always personal and bespoke, created to sensitively reflect and capture the character, wishes and preferences of the person you wish to commemorate. Families are welcome to come and choose flowers and foliage direct from the garden between March to November.
Seasonality, sustainability and respect for wildlife and the environment are part of our ethos. Our own flowers and foliage are grown without the use of chemicals and the settings for our arrangements can be re-used.
Funeral Flowers Workshop 
We are able to offer small, intimate workshops where friends and families can come together to remember their loved one while creating their own floral funeral arrangement. Gabi will help you choose flowers and foliage from the garden, then work gently and sensitively with you to create a wreath or arrangement that is unique and personal.  Our funeral workshops are suitable for up to 6 people.
Please email Gabi or call 07743 920440 or 01379 677793 if you would like to discuss floral arrangements for a funeral or are interested in booking a Funeral Flower Workshop.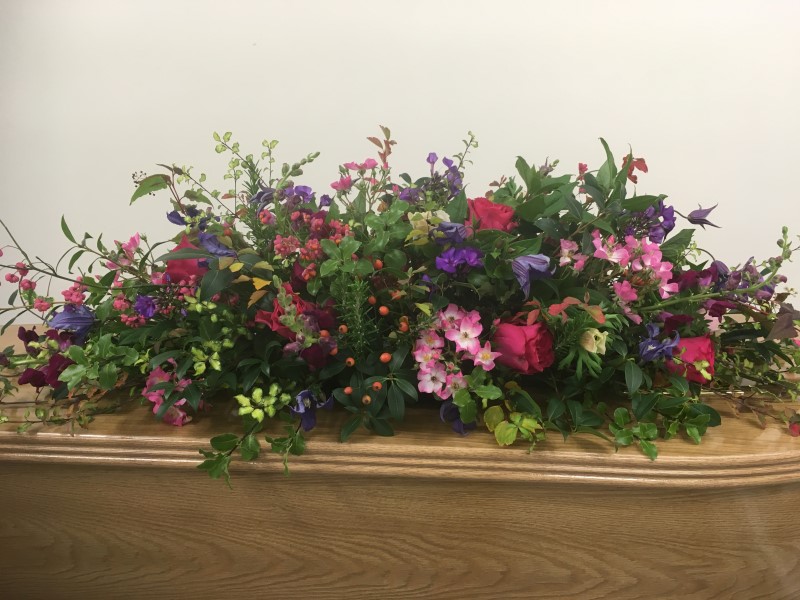 "Just a note to thank you for the gorgeous spring flowers you selected for Stephen's funeral service. The colours are lovely, especially the yellow crown tulips. After some spring rain yesterday, they are still alive and vivid. The flower selection was perfect."
Rosanne, April 2023
"Gabriels Garden is a peaceful haven and full of wonderful lush flowers and foliage.  Throughout the process of choosing flowers and the right arrangement for my Mum's funeral, Gabi was kind, compassionate, informative and very helpful. Gabi is a joy, and so knowledgeable about plants and flowers, and her arrangements were simply beautiful & would have made Mum so pleased. Thank you Gabi for your amazing service, and for being so kind."
July 2023
Photo credits: Wendy Aiken